Westfield Feed History
Located at 288 Union Street in Westfield, Massachusetts, Westfield Feed owners Bob and Linda Williams feel at home. Westfield Feed was incorporated in 1988 and was originally located on Elm Street. In 1994 the store moved to East Main Street and then moved to its new (and final) location in Union Street.
We feel that this location is perfect: close by and easy to get to from all directions and yet off the main drag. With deer and beaver often seen in back of the store we feel like we're in the country. We have given our Union Street address the look and feel of an old fashioned feed store. Just like the old time feed stores, Westfield Feed is loaded with feed and supplies for all animals, large and small. From horses to hares, and every animal in between, Westfield Feed is the place to shop for grass seed, fertilizers, coal, wood pellets, ice melt, propane, hay, straw, shavings and much more.
The store is open seven days a week and we accept all major credit cards. We offer propane refills and wood pellet delivery. We also supply pet & food supplies, energy, livestock & equine, wild bird, and lawn & garden supplies. Stop by and let the friendly, helpful staff help you meet your needs.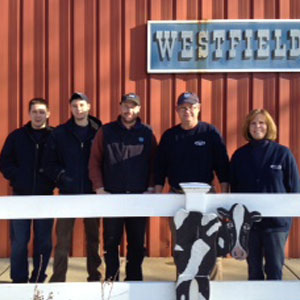 Claudia Carpinone, VP of Blue Seal Feeds, says "Thank you for 25 years of service" with a plaque to Bob and Linda Williams of Westfield Feed.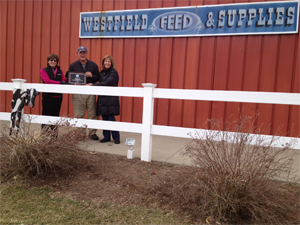 Easthampton Feed History
Easthampton Feed, formerly Community Feed of Easthampton, opened in December, 2007. Managed by David Stauffer and assisted by Jake Champagne, the store is very unique. Housed in an historic 100 year old building, the grain is slid down a wooden chute form the upstairs warehouse where it was delivered to be loaded into your vehicle. There is a huge custom bird seed mixer where the popular "CWB" wild bird mix is blended.
The store sells grain, pet food and supplies, hay, straw, propane, shavings, wood pellets and coal and lots of good gardening supplies. We offer delivery service including wood pellets.
Easthampton Feed is open Monday thru Saturday and we accept all major credit cards. Stop by and let the friendly, knowledgeable staff help you meet your needs.