Our Events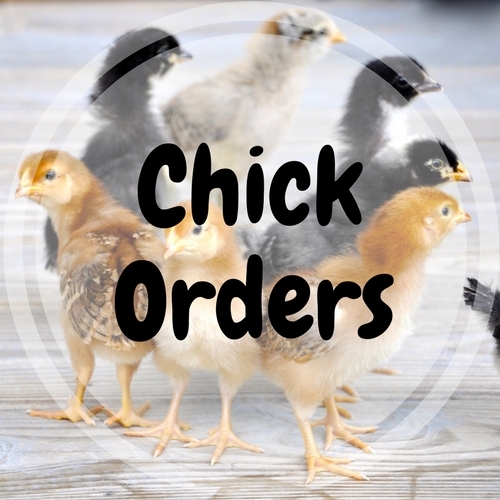 It's Time to Order Chicks
Special Event
Place your Chick orders by April 15th! Birds will arrive the 2nd week of May!
CLICK HERE to print our Chick Order form.
Birds will arrive the 2nd week of MAY.
Birds could arrive any day Tuesday thru Friday depending on the Post Office
Orders MUST be pre-paid
Be ready and be prepared ahead of time! (Visit either store for chick supplies to help you get started)
We will call you when birds arrive.. Please leave 2 phone numbers where you can be reached.
But ultimately, it is your responsibility to find out when the birds arrive.. We will not be responsible for birds picked up more than 24 hours after they arrive.
Chick List:
Brown Egg Chicks:

Rhode Island Red Pullets
Silver Laced Wyandotte Pullets
Buff Orpington Pullets
Speckled Sussex Pullets
Colored Eggs:

Heavy Broilers:
Cornish Cross (as hatched)
Turkey Poults:
Broad Breasted Whites*
*10 minimum - Orders less than this minimum are not guaranteed to be shipped.
3/23/2018 from 6:00 pm to 8:00 pm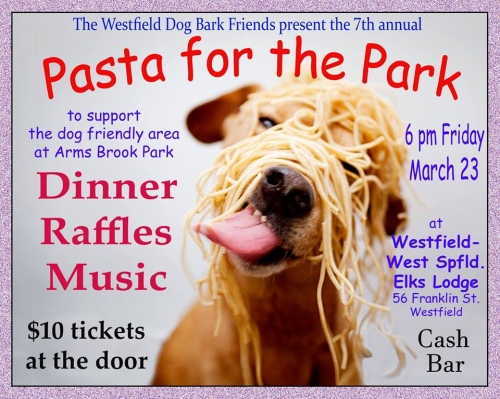 Pasta for the Park
Community Event
Westfield Dog Bark Friends is hosting their annual Pasta for the Park fundraiser Friday March 23, 2018. This year the Westfield Lodge Of Of Elks stepped up with a great hosting donation!
As with previous years Nora's Restaurant & Lounge will be catering the dinner starting at 6:00 pm. $10.00 at the door or you can use the PayPal Donation.

There will be a cash bar. There are some great raffle prizes from local businesses and loyal Westfield Dog Bark Supporters: For K-9s & Felines, LLC - Pet Grooming, Food & Supplies, Westfield and Easthampton Feed, Mama Cakes, Two Rivers Burrito Co, Phipps Liquors, Nor'easter Organic Life Hydroponics, Farm and Garden, Très Lounge, Springfield Thunderbirds, Gift Baskets & many more.

The raffle will be pulled at 8:00 pm. You do not have to be present to win, so stop by your way home and fill out some tickets or even grab a plate to-go!!